Solutions
Paperless electronic work order solutions-----E-signature
AddTime:2016-08-23 08:54:56 Hits:0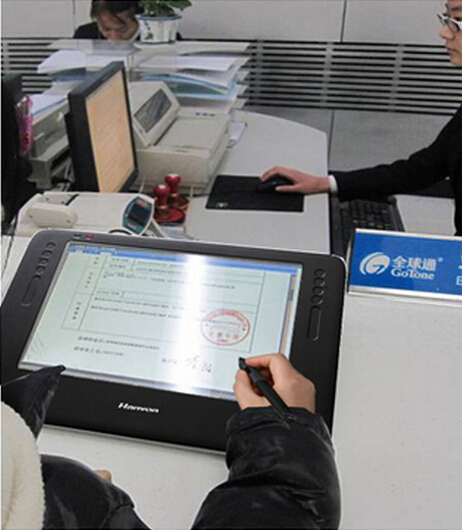 China Mobile,China Telecom,China Unicom,the three major telecom operators,requires a lot of paper,processing time for document checking,space for saving the document and high cost of the entire process to handle various business contracts,documents to be signed confirmations.Since 2009,operators have begun to implement the dual display electronic and paperless work order items,and it integrates electronic signature function in business systems and use a function of the original handwriting electromagnetic stylus for client signature.Hanvon provides active technical support,including demonstrating pilot,drivers,hardware and software interface definition.
  Hanvon provides China mobile,Telecom and China Unicom operators with many types of electronic signature products around the 3.7-inch serial/USB port signature screen,5.6-inch signature screen,10.1-inch signature screen,12.1-inch signature screen,19-inch handwriting screen and tablet as well as a multi-function handwriting signature board with functions of encryption and leaving board handwriting signature track on both paper and computer.All these projects are support for dual input signal separation,and the signature device to disable the mouse.And the main screen mouse operation will not be affected when the user is signing,and the signature track is smooth with true strokes.
  Hanvon has the patent of wireless and passive electromagnetic technique.With a variety of handwritten screen products models and development capabilities of hardware customization,custom drivers and software interfaces custom,it can meet the various needs of customers.
---
Previous Article :First page
Next Article :Last page